Use these programs to achieve your goals.
Interactive Announce Campaign with Extensions
The best way to announce a new title on Twitch is to drive traffic to your official channel, create some type of interactivity to build hype while users wait for your official announcement, and then share your official announcement. By asking viewers to link their accounts during the campaign, you can capture emails to re-engage the interested audience.
Bethesda's "Tablet" Extension for Elder Scrolls Online: Elsweyr turned viewers into active participants in its reveal. The Extension unlocked the announcement with viewer interaction; 511,000 unique viewers watched the stream on the trailer launch day. There was an additional Extension that incentivized viewer participation with in-game and IRL prizes as well as the ability to pre-order the game.
Level of effort: 1 week
Recommended for all game types if applicable.
Broadcast with Extensions at Major Trade Shows
E3 is generally the largest week on Twitch. In 2018, over 2.9 million concurrent viewers tuned in to Twitch, smashing the previous record of 2.5 million concurrent viewers in January. The total viewership of E3 content year over year increased 71 percent and unique views 81 percent. Twitch also often sees hundreds of thousands of viewers for Blizzcon and other publisher-specific trade events. We recommend showing your pre-show, show, and post-show on your official channel and also making it available for co-streaming. We recommend using our forthcoming press conference Extension to create simple interactive polls and to drive pre-orders. We strongly recommend encouraging other streamers to co-stream your press conference and other major events to amplify the impact.
During E3 last year, Bethesda created their own Extension, which asked viewers to link their ESO and Bethesda.net accounts, to enhance the viewing experience of their Showcase—complete with trivia, polls, and an opportunity to get free items. This encouraged viewers to not only watch, but also interact with the stream and amplified coverage of announcements well beyond the audience at E3.
Level of effort: 1 week
Recommended for all game types if applicable.
Launch Campaign with Bounty Board
You only get to launch a game once, so pulling all the levers is critical. You can use Bounty Board to recruit streamers and run interactive ads on Twitch to maximize lift during your game's launch window. You can also use Extensions on your official channel to drive sales.
To promote Ubisoft's newest racing title, The Crew 2, Twitch focused on engaging core racing game fans as well as general gaming fans by enlisting as many Twitch influencers with these audiences as possible via Bounty Board. Activating variety streamers as well as core racing fans allowed Ubisoft to put The Crew 2 in front of viewers that would not have sought out a racing game otherwise, but when given the opportunity, enjoyed the content streamed by their favorite influencers. 215 influencers activated the Bounty, resulting in 68,000 total views, 102,000 unique viewers, and 66% of viewers stayed on the channel for two or more minutes.
Level of effort: 1 week
Recommended for all game types if applicable.
Twitch Advertising
Advertising on Twitch isn't static. It isn't one-way. We offer standard IAB display and video media as well as native opportunities. Custom executions are also available. Twitch Ads reach a highly engaged audience of mostly males between the ages of 18 and 34. More than 15 million are unique daily visitors and account for two million peak concurrent users site wide.
Apex Legends used ads on Twitch to promote the upcoming launch; the game took just eight hours to reach one million players and hit 25 million by the first week.
Level of effort: 1 week
Recommended for all game types if applicable.
Drops
Drops allows game developers to offer special offers, content, or in-game items to Twitch viewers who watch your games. Drops convert viewers into players, because viewers get in-game items that are only worth anything if they play the game; they need to be a player to derive benefit from it. Dozens of game developers have used Drops to improve player retention and spend.
Example: Rainbow Six Siege ran a Drops re-engagement campaign with new character skins and charms as a way to retain players.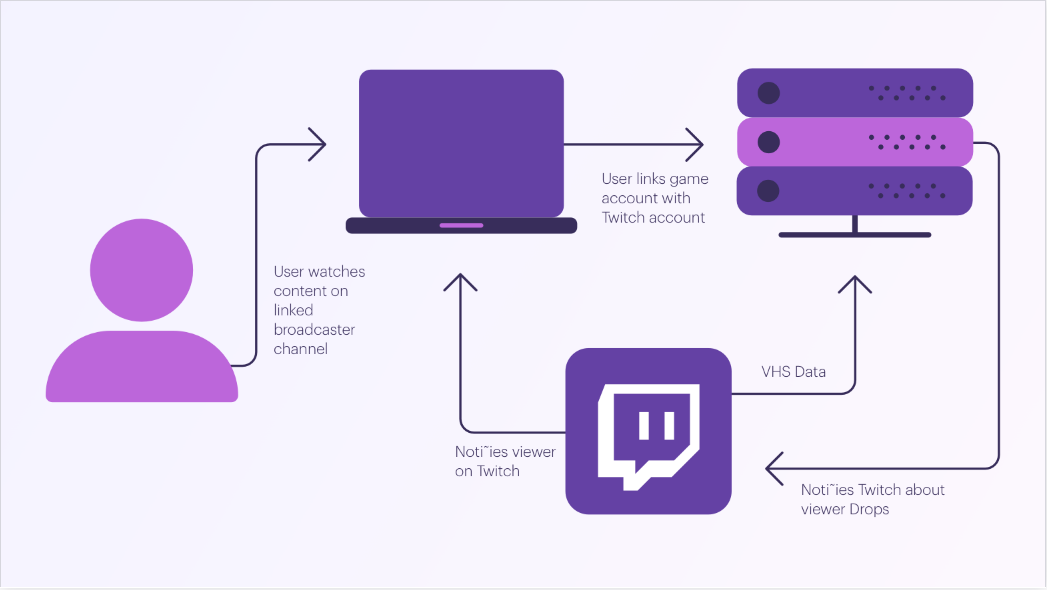 Level of effort: 1 week
Recommended for all game types if applicable.
Mods
Twitch enables you to promote discovery of your game's mods through the Twitch desktop app, where you can also manage them, and to drive additional discovery with a mod manager Extension on Twitch; the Extension allows a streamer to show off what mods they are playing to their community and then enables people to download and play the mod with their favorite streamer. Twitch also supports mod developers through a rewards program. Other developers are building free content for your game, which helps with organic retention and acquisition.
Blessing and Curses is another mod for Stardew Valley that adds a random chance to gain a random buff or debuff every x amount of days. If a streamer connects their Twitch account and channel name, Chat can choose from three randomly shown buff or debuff options. By using Twitch as a focus, the mod gives viewers a way to interact and affect game play on a whole new level.
Level of effort: 1 week
Recommended for all game types if applicable.